Map of Gower Peninsula shown below
with road numbers
Come off at Junction 47 of M4, then head for Gowerton, Penclawdd, Crofty, Llanrhidian, Landimore & Cheriton.

ARRIVAL TIMES / DEPARTURE TIMES - Middle Cottage, Heather Cottage, and Wagtails
​​​​​​
Guests are politely asked to kindly arrive after 4.30pm on arrival day, and kindly depart by 10.30am on departure day - many thanks in advance for your co-operation with these requirements.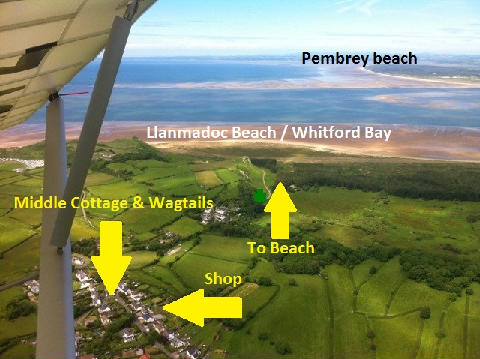 Map co-ordinates to find us
Latitude is 51.617430 Longtitude is -4.253941 (Go to http://www.gorissen.info/Pierre/maps/googleMapLocationv3.php)
Geotagged geo:lat = 51.617430 geo:lon=-4.253941
RoboGeo Tags co-ordinates are51.617430;-4.253941
Directions to MIDDLE COTTAGE, LLANMADOC,N.Gower, SA3 1DE
First note the location on the map below, of Llanmadoc (top left of map).
Middle Cottage is right in the centre of the village of Llanmadoc.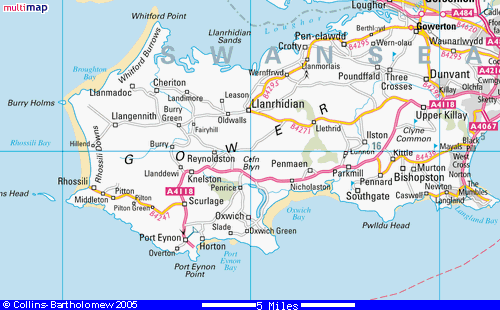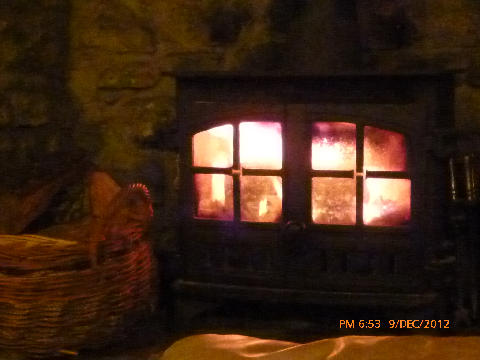 Directions to our three cottages
LLANMADOC,N.Gower, SA3 1DE


First note the location on the map below,
of Llanmadoc (top left of map).

Middle Cottage, Heather Cottage and Wagtails
are right in the centre of the village of Llanmadoc.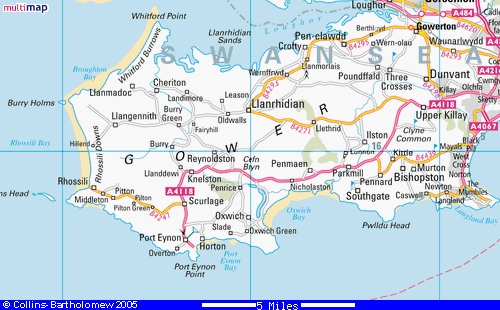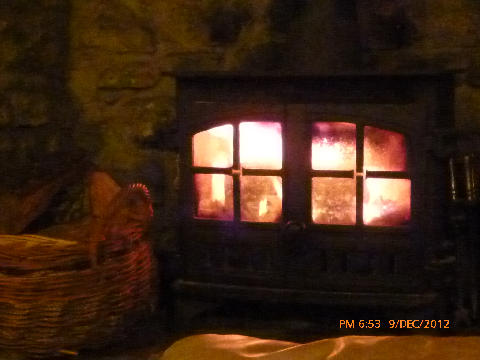 HOW TO GET THERE
 
Middle Cottage, Heather Cottage, and Wagtails Cottage

POST OFFICE GREEN
LLANMADOC
NORTH GOWER
CITY & COUNTY OF SWANSEA
SA3 1DE

When driving west through South Wales on the M4 from England we recommend you avoid the early Swansea junctions 42 - 46 and stay on the M4 to Junction 47. If arriving from the Heads of the Valleys Road and the Neath or Swansea Valleys down onto the M4, we still recommend you proceed in a Westerly direction to Junction 47 of the M4.
Take "Swansea West Services" Jcn 47 exit off M4. The slip-road takes you to a roundabout and a set of traffic lights above the M4.

At this large roundabout, take second exit and follow A483 following signs to "Swansea/Gower".

Then after a mile on same road, which starts flat but then descends downhill, and you come to a roundabout*. Take the second (i.e. right hand) exit (west direction) towards "Llanelli/Gower/Gowerton" onto the A484.

*NB: At this roundabout the road signs are confusing as they also direct traffic "to Gower avoiding low bridge" taking you towards Swansea via first [left] exit of roundabout. Ignore this and take second exit right, unless you want to visit the large "TESCO Extra" or M&S Food store found at Fforestfach before going into Gower.

Proceed directly through the next roundabout. (2nd exit), passing "The Farm shop" which is on the same roundabout.

You should now start to see views of North Gower and Lougher Estuary. Still follow A484 and then at another roundabout half a mile later down the incline, take the first exit turn left towards Gowerton on B4296.

You then pass a Harvester restaurant. After driving underneath railway bridge, you come to lights at Gowerton some 20yds later after railway bridge. Take a right at lights, on B4295, signed to Llanrhidian. After a mini-roundabout Tesco Express is then on your left. (Its worth stocking up on provisions here – no particularly good shops other than Petrol Station and Post Office after this).

You are now on the "North Gower Road" or B4295 which you should follow for 6 miles or so, passing through Penclawdd, Crofty, Llanmorlais and Wernffrwd.

After Llanmorlais, and after another 2 miles, still on B4295, you arrive at Llanrhidian Petrol Station (Heronsway Filling Station). Continue straight on.

Keep driving past the petrol station and you then enter the village of Oldwalls and as you pass the (old derelict) Greyhound Inn public house on your left we suggest you ignore the brown sign telling you to continue straight on for the Britannia Inn and instead FORK RIGHT towards Llanmadoc/Cheriton/Landimore. Llanmadoc is now 2 miles (6-7 mins driving) onwards. You need to drive slowly and may need to let other vehicles pass as this is partly a one lane only 'B' Road.

DRIVE CAREFULLY - ONE OR TWO NARROW COUNTRY LANES HERE WITH SHEEP ROAMING

After turning right just after the old Greyhound Pub make sure you pass the hamlet of Leason (on your right), then Windmill Farm/Ocean View (on your left) and then you will pass Weobley Castle (on your right). After next passing the village of Landimore and after 800m you will bend left and dip down a hill steeply left to Cheriton and then after the Church (St Cadoc) bend right on a sharp bend right and up/down/up the hill up to Llanmadoc. Pass The Britannia Inn on your right and drive for another 400m past it until you see a red phone box. That's where Middle Cottage and Wagtails are found. Heather Cottage is at the rear of these (pass up a lane to the left of Middle Cottage then turn right into Catchpool Lane for Heather Cottage).

The front door of Middle Cottage is "two cottages to the left" of the phone box (it is literally the middle cottage of the small row of white cottages right on Llanmadoc Village Green). Middle Cottage has a grey slate housename sign to left of an oak front door up a small path and through an old black front gate.
(We live in 'Gower Cottage', immediately to the right.)

For Middle Cottage guests are kindly asked to unload at the front but to park at the rear which can be accessed around a small lane to the left (eastern end) of the cottages i.e. to the left of the row of cottages as you look from the road outside. This is also how to access Heather Cottage.

Drive 30 metres up this lane and then turn right into Catchpool Lane. The rear farm gates for both Middle Cottage and Heather Cottage are then found on your right hand side.


PARKING ARRANGEMENTS


HEATHER COTTAGE & MIDDLE COTTAGE

Parking for both Heather Cottage and Middle Cottage is

at the rear

of the row of white cottages (the cottages which comprise Lane House, Middle Cottage, Gower Cottage and Wagtails).

These rear parking areas are both accessible via the tarmac lane to the left of the cottages (as you look at the front of the cottages from the village green). Both car parking areas are found in Catchpool Lane. So just follow the lane at the left of the row of white cottages, and then after 50 metres you turn right into Catchpool Lane and drive around to the back where you will see the two farm gate entrances – one after the other.

There are two wooden farm gates the first is for Middle Cottage (see the bright pink garden access gate which takes you down to Middle Cottage back garden). The next one is for Heather Cottage (gravel driveway) then just drive through the well signed parking. For Heather Cottage – please park towards the left as you enter (your hosts Dai and Heather who live at Gower Cottage also park their cars in this Heather Cottage parking area).

MIDDLE COTTAGE

As already stated above parking for Middle Cottage is at the rear. Middle Cottage has its own well signed farm gate rear entrance, into a gravel and grass area large enough for 2-3 cars. This area is for the exclusive parking use of guests at Middle Cottage. This area leads via a bright pink garden gate into the gravel pathway that leads down into Middle Cottage back garden (via two further wooden gates). The three successive wooden gates are a useful backstop if your dog ever escapes out of the inner gate.

As an unavoidable condition of staying at Middle Cottage, you are politely asked not to leave your car parked at the front of Middle Cottage (on front village green) other than for loading and unloading. Therefore upon arrival – due to the need for the very large local buses to undertake three-point turns once an hour, it would be appreciated if you would kindly park at the rear after unloading, thank you in advance !! It is important that you follow this requirement because the bus drivers cannot complete their turning manouvre if you park at the front. NB: There is a bus stop area marked on the road outside at the front of Gower Cottage and almost to the front of Middle Cottage. The "Bus Stop" area does not cover the area across the front of Middle Cottage. So legally you could park at the front. However, please be aware that this unmarked zone is exactly the area which buses need to complete their three pint turn so we have to ask you not to park there (other than for unloading/loading). We apologise for this inconvenience.

WAGTAILS COTTAGE

Parking for Wagtails is in its own front driveway - park up to the front door of Wagtails. Access into the driveway is via the village green and immediately next to the red village phone box.