Chris Griffiths now operates a Clay Pigeon Shooting morning or afternoon at the Cynegar field at Cwm Ivy in Llanmadoc overlooking the Whiteford Bay. Renewable biodegradeable clays are used, and the details can be found on
www.gowerclaypigeonshooting.co.uk
Cwm Ivy Clay Pigeon Shooting Club
The club welcomes new members and to find out more go to our club membership page. We hold a 100 Bird Sporting shoot every two weeks for Club Members on the second and fourth Saturday.
Corporate / hen & stag parties
The club also caters for corporate (non-member) shooting. (Minimum of 6 people.)
Prices for Club Members
50 bird sporting - £10 per round
NB: Cartridges not included - these can be purchased at £5 per 25.
Prices for non-Club Members
Bringing own shotgun and evidence of own shotgun license NB: no tuition provided.
50 bird sporting - £12 per round
NB: Cartridges not included - these can be purchased at £5 per 25.
Corporate/Stag & Hen parties*
25 birds - £25 per person per round
40 birds - £35 per person per round
- This includes tuition, use of gun, provision of all cartridges and safety equipment (safety glasses, earplugs)
- Minimum six persons
- Approx. duration of shoot, two hours
*Corporate/Stag/Hen prices Include full tuition with a Clay Pigeon Shooting Association (CPSA) qualified coach.
To make a booking for any of the above
For all enquiries about the above prices and booking, please kindly contact the Club Secretary Chris Griffiths, as follows:
Tel:
Mobile: 07815 913453
Landline 01792 386415
or
Email: chrisgriffiths1964@btinternet.com
General
Visitor Attractions
Water Sports
Sport Venues
Riding
Golf
Flying
Sea Fishing
Boats and Sailing
Pony Trekking
Parc-le-Breos Pony Trekking
Parc-le-Breos House, Parkmill, Gower, Swansea, SA3 2HA
Category: Horse riding & related
Tel: 01792 371636
Email: info@parc-le-breos.co.uk
Website: http://www.parc-le-breos.co.uk

Explore Gower on horseback. Beach rides, pub rides, picnic rides. A great day out for all. BHS and WTRA accredited.
Great Gower Outdoors.com
Clyne Farm Centre, Westport Avenue, Mayals, Swansea, SA3 5AR
Category: Climbing, Cycling and Mountain-biking, Horse riding & related, Multi-Activity Operators, Quad Biking, Sailing & Yachting, Surfing, Water Fun
Tel: 01792 403333
Email: info@greatgoweroutdoors.com
Website: http://www.greatgoweroutdoors.com

Your one stop for riding and activity bookings! Choose from being in the sea, on the sea, on the waves, on the cliffs or on inland activities with a difference. Visit our website for details. BAHA and WTRA accredited.
Surfing
If it's surfing you have come for then you are at the right place. Llangennith, 5 mins drive, is seen by many as a great place to surf in Wales.
Welsh Surfing Federation Surf School
The Welsh Surfing Federation Surf School is based in Llangennith, Gower, Wales. It is a non-profit organisation that takes the role of fund raising to promote surfing in Wales. The WSF surf school is charged with the education of new surfers to the safe, enjoyable use of the sea and to environmental awareness.
The Surf School operates from April to October, full time during school summer holidays from the end of July to the beginning of September and at weekends outside of these times. Additional courses outside of these dates can also be arranged on request.
For the latest prices and offers visit www.wsfsurfschool.co.uk
PJ's surf shop
A visit to Llangennith would not be complete without a visit to Peter Jones's surf shop!.
Gower Surf School, Newton, Mumbles, 01792 360370 www.surfgsd.com
Welsh Surfing Federation, Welsh Surf School, Llangennith, 01792 386426 www.wsfsurfschool.co.uk
Cinema
The latest cinema to open in Swansea, with around twelve screens, is "Vue Cinema" located in York Street, close to the nice restaurants and bars of Wind St. This is around 5 mins walk to Swansea covered Market or the Swansea Marina.
Swansea's other decent cinema complex is the Swansea Odeon at Parc Tawe, City Centre - 25mins drive (also has ten-pin bowling alley), again walking distance from Wind Street restaurants.
Swansea University's Taliesin Theatre shows films including many award winning subtitled and alternative interest films and a diverse mix of theatre productions. Combine a visit with a trip to a restaurant, ice-cream or fish'n'chips in Mumbles.
http://www.odeon.co.uk/fanatic/film_times/s19
Llanelli (30 mins by car) has a cinema too, Theatre Elli at Station Road. Llanelli is a lovely friendly town and the cinema is close to the shopping including Llanelli covered market. http://www.carmarthenshiretheatres.co.uk/contact_elli.htm
FILM GUIDE: See what's happening on the film scene at http://www.empireonline.com/
Theatre
If you want true West End standard Cardiff's 'Wales Millenium Centre' really is worth a visit (1 hr 10 mins drive from Llanmadoc). The WMC is the closest top drawer theatre/concert hall offering genuinely world class cultural events including Opera, West End Musicals, and matching anything London has to offer certainly for facilities and sometimes for content. Several Car Parks nearby. Having visited several venues across England we think you'll agree that WMC matches anything in the UK outside London, and it's setting at Cardiff Bay with great restaurants overlooking the waterfront makes this worth an evening out of Gower.
Bristol Hippodrome (1 hr 30 mins drive from Llanmadoc), puts on some really great West End Standard shows - we recently saw Starlight Express at Bristol. NCP Multi Storey Car Park behind the theatre.
Another excellent choice and much closer to the cottage obviously is Swansea's premier theatre Swansea Grand Theatre, Singleton Street, Swansea city centre (25-30 mins from Rhossili). Why not eat french cuisine at Bouchon de Rossi, opposite the theatre, or 'eat Italian' at 'Amore' near St Mary's Church, after your show. Park outside the Grand theatre in Oxford Street Car Park. http://www.swansea.gov.uk/grandtheatre (map). This is a cosy and friendly regional standard city theatre and offers some good and very varied entertainment - sometimes really quite excellent. Kid Creole and Coconuts recently performed there, as did Ken Dodd, and some West End tours (Blood Brothers). We recently watched Oliver there and it was great.
The smaller amateur theatre Dylan Thomas Theatre, and the University based Taliesin Theatre (Swansea University, on the seafront in Swansea, weblink above) often put on a variety of quality shows. The Dylan Thomas Centre: http://www.dylanthomas.com (map)
For other options then back in Cardiff try Cardiff New Theatre in Cardiff City Centre - NCP car park next door in Greyfriars Road.
Museums and art galleries
The truth is that Swansea is not that well endowed compared to bigger cities like Cardiff. However, worth a visit are the Glyn Vivyan Art Gallery in Orchard Street, Swansea Maritime and INdustrial Museum, Swansea Marina; Gower Heritage Centre, in Parkmill, South Gower; then further afield are Rhondda Heritage Centre in the Rhondda (ex coal mine); Margam Park and Orangery, Margam, Port Talbot; and the obvious ones being the excellent National Museum of Wales, Cardiff;and the celebrated Museum of Welsh Life, St Fagans, Cardiff (M4 Jnct 33);
National Waterfront Museum: http://www.waterfrontmuseum.co.uk (map)
Swansea Museum: http://www.swansea.gov.uk/swanseamuseum (map)
Glynn Vivian Art Gallery: http://www.swansea.gov.uk/glynnvivian (map)
1940s Swansea Bay: http://www.1940sswanseabay.co.uk (map)

Shopping
Obvious options are: Shopping in Swansea city centre http://www.swanseacitycentre.com; Swansea Enterprise Park - Llansamlet; Llanelli Town Centre is very homely and friendly; Carmarthen is also very nice and friendly; and of course, Cardiff is the main regional shopping centre. There is a good designer outlet centre at Bridgend, (Macarthur Glen); and finally, we'd recommend Llandeilo for some smaller art and craft shops and a nice day out in a village setting (Lunch at Morgans 'Cawdor' Hotel, and visit Dinefwr Castle a 2 mins drive behind the town).
Football and Rugby,
Liberty Stadium hosts an increasing number of events especially business conferences and some pop concerts and of course League football (Swansea City FC), and European/Magners League/ Heineken Cup top flight Rugby (Neath Swansea Ospreys). Watch the Scarlets RFC at Stradey Park, Llanelli.
Ten-pin Bowling
Ten Pin Bowling at Parc Tawe, near Swansea town centre; Golf shown below; See other info below as there are loads of things to do in Gower.
Tennis
Visit the Tennis Centre at Llansamlet (Nantong Way); Nantong Way, Landore, Swansea,SA1 7DS 01792 650484
Swimming pools:
Main choices are: Swansea Leisure Centre, Oystermouth Rd., Swansea Marina.
Wales National Pool: http://www.walesnationalpoolswansea.co.uk
Morriston Leisure Centre Pool Morriston Leisure Centre, Heol Maes Eglwys,Morriston, Swansea, SA6 6NN,01792 797082; Penrheol Leisure Centre Pool (school based) at Gorseinon.
Golf
Gower is very well endowed with some top quality and professionally run golf courses. See them for yourself below.
The courses
Pennard, Langland, Clyne, Gower, & Fairwood Golf Clubs are all in or at the outskirts of Gower (and Machynys Golf Club is close by at Trostre, near Llanelli). Gowerton houses a driving range. Details below.
Langland Bay Golf Club - Langland Bay: Tel: 366023 or 366186 www.langlandbaygolfclub.com
Fairwood Park Golf Club: Blackhill Lane, Fairwood, Tel: (01792) 297849 or 203648 www.fairwoodpark.com
Clyne Golf Club: 120 Owls Lodge Lane, Mayals, Swansea, Tel: (Manager) 01792 401989 or (pro) 402094 www.clynegolfclub.com
Pennard Golf Club (links) - Southgate, Pennard, S Gower, Tel: 01792 233131 or 233451 www.pennardgolfclub.com
Gower Golf Club - Cefn Golau Rd, Three Crosses, Gower - Tel: 01792 872480 http://www.gowergolf.co.uk/
Machynys Peninsula Golf & Country Club: Tel: 01792 744888 http://www.machynys.com/
Gowerton Driving Range: 01792 875188 (Floodlit, also offers breakfasts) http://www.golfrangefinder.co.uk/counties/golf_ranges_in_WestGlamorgan.htm
See Map of clubs below within Gower. To help you navigate Fairwood (left) and Clyne (right) are the two blue dots below village of Killay in the map. Gowerton Golf Club is the one near Penclawdd, Pennard Golf Club is near Penmaen, and Llangland Bay is just east of Mumbles.
Other Golfing sites of possible interest to Gower visitors
http://www.welshgolfcourses.com/south/gower.php
Learn Digital Photography whilst being guided around Gower:
http://www.zoomscape.co.uk/book_a_photography_tour.html
Boat trips
Take a trip around the Gower Coast by boat.
http://www.gowerexplorer.co.uk/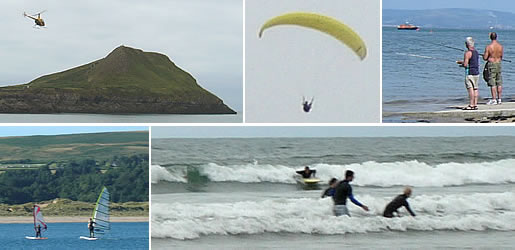 In short - close by you can do the following: some of Wales very best Sea Angling (Bass, Flounder, Mackerel, Tope and Golden Grey Mullet to name a few local species), Surfing, Golf (6 golf courses in Gower), Birdwatching, Paragliding, Jet Skiing, Swimming, mountain biking, rock climbing, yachting, canooing, archery, horseriding/trekking, scuba and snorkelling, League Football and top flight Rugby Union are all available either in Gower or nearby Swansea and Mumbles.
Contact the following:-