Follow this link to see our personal favorite local walks form Middle Cottage front door.

https://www.gowercottage.com/local-walks.html


WALKING IN GOWER - A FEW SUGGESTIONS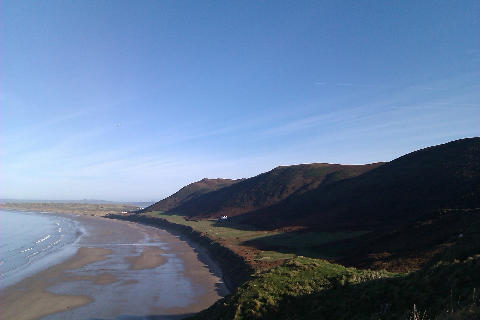 Gower Peninsula offers some of the finest short to medium length walks (typically 2-10 mile walks) from Llanmadoc to Cwm Ivy and Whitford, across to Burry Holms Island, then three miles along the beach (or longer over the Down) over to Rhossili and then either back over Rhossili Down to Llanmadoc, via Kennextone and / or Llanmadoc Hill, or (also from Rhossili Village) due east to Mewslade, and via Paviland passing the Knave and on to Port Eynon via Overton. (Bus back to Scurlage then back to Llanmadoc) offering some of the most exhilarating coastal, beach, and cliff walks in Britain. Heres a short compilation of web links showing maps, routes and photos of some great walks around Gower, many / most within walking distance from Middle Cottage in Llanamdoc.
http://www.parc-le-breos.co.uk/walks.htm
http://www.nationaltrust.org.uk/main/w-coastal_walk-rhossili_bay.pdf
http://www.timesonline.co.uk/tol/travel/walks/article6108058.ece
http://www.amazon.co.uk/Circular-Walks-Gower-Nick-Jenkins/dp/0863814778
http://www.enjoygower.com/gowertour/tour1.cfm
http://www.glamorganwalks.com/Gower_Coast2.jpg
http://www.glamorganwalks.com/gower_coast.htm
http://www.tgomagazine.co.uk/walks/wales/south-wales/gower-1.1051861
http://www.bbc.co.uk/wales/southwest/nature/thingstodo/walks/pages/weatherman08_first.shtml
http://www.walkingforum.co.uk/index.php/topic,10100.0.html
)
http://www.walkingforum.co.uk/index.php?topic=10798.0
http://www.independent.co.uk/travel/uk/walk-of-the-month-the-gower-477237.html